Style Tuesday: Twenty Seven Hours in the Big Smoke (Toronto)
March 22, 2011 at 2:00 am 2 comments
Travel Style: Fly there. Train home. Save time on the way. Save money on the way home.
1) Porter Airlines gets an A+ for the on-time departure and early arrival with snacks en route.
2) Via Rail gets an A for the on time departure, but the train was sold out so I felt a bit like I was on a packed school bus (lots of loud, but generally well-behaved kids). My over-perfumed seat mate commented on the loud children. I replied that the loud singing and joking around was better than crying. She said she "supposed so" and we said nothing to each other the rest of the trip.
Dining Style: Pre-shopping light lunch. Fun Dinner. Pre-return trip brunch with the family and another old friend.
1) Lunch at The Sandwich Box. Delicious make your own salad. I chose romaine with all kinds of veg, blue cheese crumbles and a little grilled tofu. I wish I had been hungrier cause I could have really gone to town here. I had been eating for 4 hours straight by the time we got there though trying to refuel from my  8 am 19.5 km run (and yes, the 0.5 km makes a difference!).
2) Dinner at Julie's Cuban. Delish, cute, kitschy, casual, great cocktails, lots of avocado. We each had fresh strawberry margaritas and shared some guacamole. I sampled the ceviche, the shrimp and avocado salad (loaded with avocado), and the friendly and well-informed waitress convinced me to try the papas rellenas (veg version) – a stuffed breaded potato that is flash-fried. I highly recommend making your way west to this little well-loved gem. My friend LK had the Ropa Vieja (traditional Cuban shredded beef in tomato sauce). She loved it.
3) Brunch with LK and her family and Lesley at an old greasy spoon not too far from LK's home called Donlands Restaurant. LK's husband's family has been going there for many years. I had a really good egg white, feta, spinach and mushroom omelette that came with home fries – not the deep-fried kind – it was large chunks of potato with crispy crunchy fried bits. And coffee, lots of coffee.
Shopping Style: Straight from the Toronto Island airport to Bloor Street/Yorkville followed by a couple of hours on the recently branded "Eglinton Way", the area just west of Eglinton  and Avenue. The latter is my old stomping grounds. Derek and I lived in an apartment right there on Avenue Road for a couple of years right before we were married. I get a little nostalgic for our time there when I'm strolling along in that area.
1) Anthropologie – first stop – 4 tops: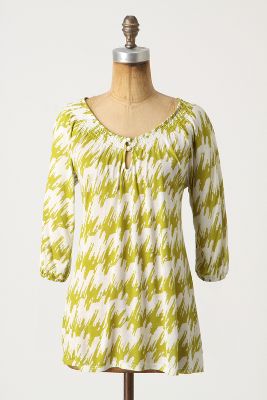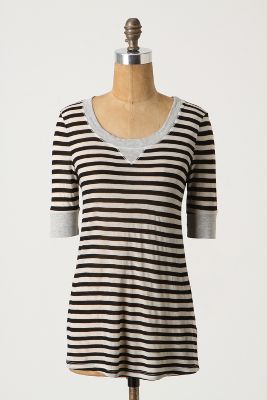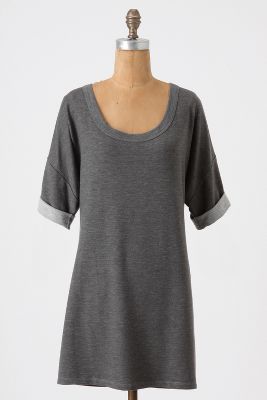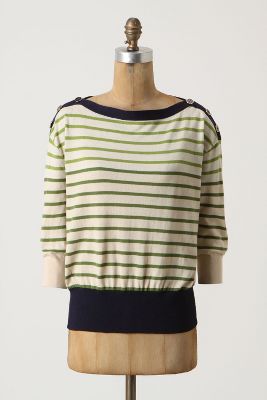 Loving the stripes for spring.
We stopped into a few more shoe stores. I was determined to find a cute pair of leopard print flats but alas, I was unsuccessful. But LK, a legendary shoe shopper, managed to find herself a pair of cute silver slides.
And then we went up to Eglinton:
We stopped into several boutiques with nothing doing (except stores overrun with James Perse tees – seriously not gonna spend $100 on a plain white t-shirt that I ruin after two washes) – blah, sad, disappointed us. We broke our singular selfish focus and made a couple of little purchases for our kids at Oink Oink (I spent a grand total of $7, and they were thrilled with my gifts).
And then we entered Liv by Au Lit and fun ensued (though this store is also full of James Perse merchandise – what is with that?). This store has clothing and home fashions. The fabrics feel lovely. I got a cute pair of Fidelity Denim boyfriend cut capris, a cream super-soft hoodie (yay – casual weekend wear not from Lululemon!), and a delicate cross over long sleeve knit grey top which I wore out to dinner that night. I apologize for the absence of photos.
Fitness Style: Our trip to the gym turned into a 45-minute power walk around Leaside/Mount Pleasant.
Yay for fun and friends in Toronto. I don't want to wait too long to do it again. Oh, and a shout out to the hubs who held down the fort while I was gone – even the kitchen was tidy.
Entry filed under: Fashion, Style, Travel. Tags: Anthropologie, Liv by Au Lit, shopping, Toronto.